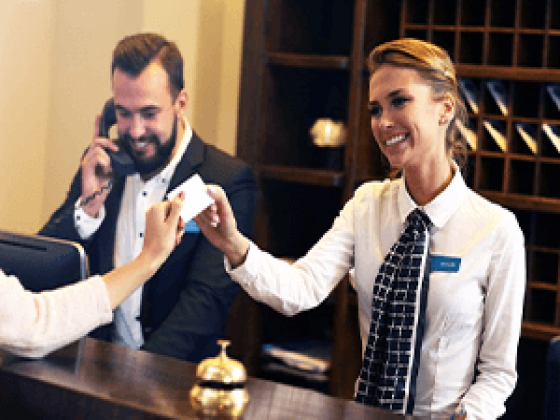 Eagleaviation Diploma Course in Hotel Management f/b
The Eagle aviation diploma course in Hotel management is the first step toward establishing a successful career in the hotel, catering, food, and beverage industries. This certificate will also be required when you open your own hotel or restaurant. The hospitality industry is rapidly expanding and offers numerous job opportunities. It is not only limited to the domestic market but also creates job opportunities abroad.
The first step towards a successful Eagle aviation diploma course in Hotel Management is to gain a successful career in the hotel or we can say the f&b industry. When you open up your restaurant, you will eventually need an Eagle aviation hotel management diploma course certificate. There is rapid growth in the hospitality department and that is why you have job opportunities in this specific field. You will not be limited to under-house jobs, and get to have foreign travels as well. A diploma in hotel management typically takes six months to complete, divided into six semesters. Students get a foundational understanding of hotel administration throughout this time, including accounting, advertising, maintenance, housekeeping, front desk, catering, and food and beverage management. Students will also gain knowledge of fundamental food production, health hygiene, hotel operations, computer applications, hotel law, and fundamental food and beverage service. Overall, with a reduced degree worth and without business administration ideas, you can refer to it as a necessary MBA in Hotel Management.
Need a nurturing career in the field of travel and hotel industry? You have got to have the Eagle aviation diploma course in hotel management. Along with that, there is a specific need to get this certificate to open up your own restaurant as well. There is a high demand among students to make a successful career in the food and travel industry. However, professional training is necessary before you even think about getting a job. Our virtual courses are meant to be the stairs to a successful job for such students who want to conquer the food and travel industry. Whether you want career in-room services, coffee shops, banquets, room service, doorstep food delivery, motel, or restaurants. The Eagle aviation diploma provides amazing skills to the students for a better future in the management process of hotels and other specific activities. It includes event planning, banquet hall management, wedding planning, conference room decoration, and many more to count. The basic entities like learning how to behave with the guests in terms of hospitality and how to handle complaints are what the Eagle aviation diploma course teaches them.
If you want to pursue a one-year diploma in food and beverage services, you must have completed 10+2 or an equivalent qualification.
The age of the candidate should be at least 16 years. Let us now discuss why having a degree in this field is important.
The following are the major advantages of a Diploma in Hotel Management Food and Beverage Service:
The diploma course in hotel management F/B will provide you with a wealth of helpful knowledge. With this program, you will be able to learn about human resources, people management, and current hotel industry trends. You can choose modules to advance your professional development. Some students choose to pursue a career in human resources, tourism, international hospitality, or hotel management. If you have a diploma in this field, you can work in international chain hotels, and from us, you will get a Hotel management diploma certificate.
After completing the course, you will be able to begin working as a professional. You will be trained in a variety of areas, including menu development, food safety, managerial issues, purchasing and selling food, and other aspects of the food service industry. The courses are taught by industry professionals who have worked in various institutions. The curriculum places a strong emphasis on food preparation and serving like a chef. The curriculum is designed for students who want to work in areas such as hotel management, tourism, and travel, among others.
Demands of the Hotel management diploma course:
There is a certain level of demand that comes with these courses which are mentioned below.
After learning this course, they can learn how to work as a steward, waiter, cook, and supervisor.
Expertise in Effective Communication:
The course necessitates excellent communication abilities. It is necessary to be fluent in English as well as other regional languages depending on the situation. If you want to make a successful career in the hospitality industry, you must be fluent in English and other languages. We offer communication expertise classes that allow students to interact with guests and management. They will comprehend the critical importance of accurate and efficient communication.
Nurturing:
The course prepares students to work effectively in the hospitality industry by nurturing and grooming them. All students in grooming and nurturing classes must take care of their body language, outfit, dress, behaviour, neat and clean hair, traditional dresses, and many other aspects. While working in the hotel industry, basic ethics and manners are required.
Hospitality:
The hospitality session teaches about the hospitality industry. Several topics are covered in this course, including greeting guests upon arrival, assisting them with check-in, handling guests, checkout, payment settlement, room service, and many others. Students will also be taught how to make online hotel reservations for guests.
Personal interview preparation:
We assist students in preparing for a personal interview during this session. We conduct mock interviews and real-life scenarios to help them understand what to expect in an interview. It will assist them in understanding the pattern for their interview, and they will quickly grasp the concept of successfully completing the interview.
---
What are the advantages of the Eagle Aviation course in Hotel Management in the Future?
Eagle Aviation can provide you with a 6-month hotel management course or any other length of time. If you pursue a degree in Hotel management food and beverage services, you will have an 80% placement rate based on your knowledge and skills. The Diploma in Hotel Management Food and Beverage Service Future Scope includes a wide range of subjects. In addition to food production and service management, you will learn about hospitality and customer service. This program will prepare you for a variety of hospitality jobs, including catering, event operations assistance, cuisine, and guest services. You'll be able to work in a variety of environments, such as hotels, resorts, and cruise ships.
The food and beverage industry is a fast-paced, highly competitive industry. Despite the demanding nature of the job, those with a diploma in this field have many options. A hotel management diploma will not only prepare you for a variety of future opportunities. Still, it will also provide you with a variety of transferable skills that you can use in other industries. Those who take this route will have a very rewarding career. Food and beverage service is connected to the hospitality industry. It should be noted, however, that a career in the food and beverage industry is not easy to come by. You will be expected to provide immediate solutions while maintaining high levels of service. Furthermore, you must maintain a positive attitude in order to win over customers.
Why should you enroll in hotel management diploma courses through Eagle Aviation?
You can now get the education you need and gain knowledge for your preferred field by attending an NCT-approved aviation institute. There is a simple reason why you should choose Eagle Aviation to obtain your authorized hotel management diploma certificates: we are the best. We offer legitimate course certificates and the best education for students to succeed in the food and beverage industry. In addition, we offer our services at much lower prices, so that no student has to suffer financially. We believe that students should not have to worry about money and should instead receive the best education possible for the services they receive. So, enrol with us now.
---
For those interested in working in the food industry, a hotel management degree program may be an excellent choice. Not only will you gain valuable on-the-job experience, but you will also learn how to deal with chaos. The course also deals deeply with hospitality management, food ethics, and customer service.