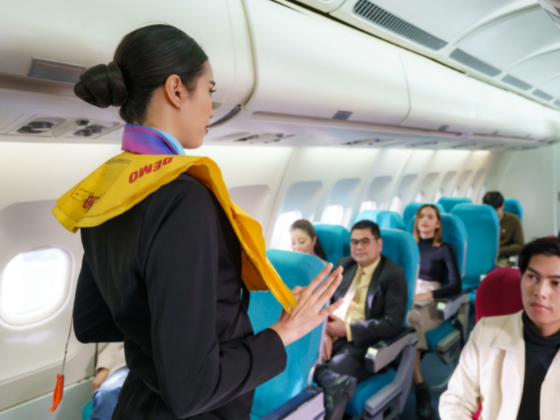 Eagleaviation Institute-Professional Diploma Course in Air Hostess
Now that Eagle Aviation institute has you covered, there is a means for you to earn a diploma in air hostess training. One of the best training trainers is available there to help people learn swiftly and efficiently. You will also be given an aviation NCT-approved certificate. Now that everyone needs to have a great job in their chosen profession, we assist you in getting the ideal training you require to work as an air hostess, whether you are a boy or a female. We frequently rank as the top training facility for air hostesses in the rapidly evolving high-technology industry. One year of an air hostess diploma program can teach you a lot.
A one-year Diploma course in Air Hostess is an academic program offered by Eagleaviation Institute that combines classroom instruction with real-world training in the duties and responsibilities of the position. Students who complete the course are prepared to work in the airline industry. The general public believes that airlines hire flight hostesses to serve food and beverages to their passengers! However, an air hostess' duties go beyond just serving food and drinks. In addition, we mentor them in several of their main duties. Here are some of them mentioned below:
They manage in-flight announcements and cabin-wide communication.
They attest to travellers'safety.
They attest to travellers' comfort
They assist travellers with boarding, seat selection, and baggage handling.
supplying travellers with food, magazines, drinks, and other necessities.
educating travellers on safety precautions.
Assist travellers in times of emergency and panic.
The Eagle Aviation institute is an NCT-approved institution, that offers an air hostess diploma. In-person training sessions and lectures make up the academic program. Students receive training to become skilled flight attendants! In the eyes of the general public, airlines use air hostesses to provide food and drinks to their passengers! However, this is untrue! One part of an air hostess' duties includes serving meals and refreshments. You can find a position that is right for you and experience the progress you've always desired with the help of air hostess diploma programs.
There are various pre-requirements to become an air hostess boy. Candidates must meet the age requirement as well as be in good physical condition, possess a sharp memory, and be quick on their feet. Some training institutions have loosened the age restriction. A variety of skills are emphasized in the training. A high school diploma or its equivalent is required for students who successfully complete the air hostess training program. The students must be comfortable with computer basics and ready to learn about flying and safety measures. After successfully completing the program, candidates will need to pass a written test and an interview. There will be tests for English, general knowledge, and intellectual capacity. One must be skilled in these three areas. Finding air hostess classes in Delhi is difficult, but we make it simpler with our online system. For comprehensive information, please visit our website.
The pre-requirements for the one-year aviation diploma program is 10+2.
One can receive a diploma after completing class 12 with a reputable board of education, which is frequently better than a certificate course. The required age range for flight hostesses is 18 to 27 years old. For women, the minimum height requirement for air hostess training in Delhi is 155 cm, whereas for men it is 170 cm. An applicant also needs to be at least five feet tall and have brown or red hair, normal eyesight, and a decent sense of smell.
What are the advantages of an Eagle Aviation Air Hostess diploma program?
An Eagle Aviation diploma in air hostess training will make you stand out from the competition. There is a lot of physical and mental labor involved in this area of employment. You'll learn how to deal with different situations. Theory and practical training are typically combined in the courses. You will be ready for the real world thanks to this method of training. You'll be qualified for a variety of jobs in the aviation industry with a diploma. When choosing an airline, the qualifications for an air hostess boy are quite important. Airlines select air hostesses based on their qualifications and competence. They frequently conduct written tests and interview candidates who have completed industry-related diploma programs. With an air hostess training credential, you'll be prepared for the job market and the industry's competition. The diploma program may seem shorter, but it does not offer the same employment options. Furthermore, employment opportunities following training are less promising than they are following a degree program. A degree in aviation, however, can be exactly what you need if flying is something you are very passionate about.
There are several important benefits that you can conquer if you choose to get an NCT-approved certificate from Eagle Aviation Institute. You ought to enroll in Eagleaviation Institute's air hostess training program because:
You can receive training from professionals in the field.
We provide instruction and internships.
We offer ongoing assistance with job placement.
Is there a future for the industry of hostess diploma courses?
Without a sure, there is a tonne of room for growth in air hostess diploma programs. The need for flight crews has been rising consistently across all airlines, which has caused a boom in the air hostessing sector. You need to have a positive outlook and the appropriate training to be a successful air hostess. Additionally, the airline industry is gaining from large investments and daily new company debuts, and the career prospects for air hostesses are particularly promising. The diploma in air hostess training includes a general study of air hostess courses, which is followed by internships in various organizations. After completing the program, graduates can pursue higher degrees and find employment as airline managers or flight attendants. You can earn an NCT-approved course in air hostess through a one-year diploma program, which will aid you in finding employment in that particular industry.
Graduates of the Eagle Aviation Diploma course in Air Hostess Training program will be eligible for employment as air hostesses and members of the cabin crew. Students will be prepared for employment in the aviation industry after completing the one-year diploma course in the air hostess program. The newest developments in aviation technology were taken into consideration when developing the program. The training includes business management skills, aviation technologies, and hospitality practices, giving the students a competitive edge in their future jobs.
As a flight hostess, it will be your responsibility to ensure the security and safety of the passengers. You are also responsible for interacting with other passengers on the plane. As a flight attendant, you will have the opportunity to go abroad. With an air hostess training certification, you'll be off to a fantastic start and have many travel chances! But keep in mind that there are other ways to succeed as a flight hostess than receiving an air service diploma.
Opportunities Knocking for Employment and Career Growth with an Air Hostess Training Diploma:
The aviation business has a significant demand for skilled and qualified personnel. You need to be able to work with a variety of people and groups if you want to become an air hostess boy. You need to be physically fit and have a sharp memory for a dynamic environment. You need to pass accredited cabin crew training in order to be qualified for this vocation. To safeguard your safety and security, it is essential to comprehend the policies and procedures of the major airlines. Additionally, you must make sure that your passport is at least a year old. The conditions for obtaining a visa should also be known if you are traveling overseas.
You will be qualified to start working as a flight attendant, member of the cabin crew, or stewardess once you have finished your training. You have the option of working for an international or domestic airline. The position calls for effective interpersonal and teamwork abilities.
Why should you register for Eagle Aviation's Air Hostess diploma programs?
You should select Eagle Aviation institute (NCT-approved Institute) for your official Air Hostess diploma certificates for one simple reason: we are without a doubt the best. We provide students with the greatest education and authentic course credentials so they can excel in the air hostess boy profession. In addition, we charge substantially less for our services to spare no student any financial hardship. We think that pupils need to have the greatest education possible for the services they receive rather than worrying about money. Choose us to defeat the finest, then.