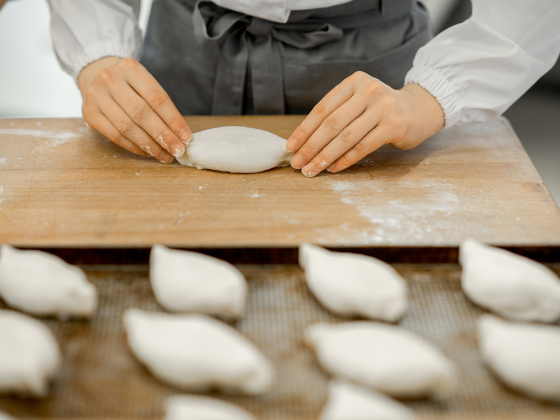 Eagleaviation Diploma Course in Hotel Management in Bakery
A certificate in baking and confections are offered by the Eagle Aviation hotel management programme. Candidates who complete the hotel management diploma programme successfully receive a diploma in baking. Students must have completed their 10+2 in any subject from a recognised institution with a minimum of 50% of the marks in order to enrol in this bakery diploma. For people with a passion for baking and confections, there is a specific degree programme called the diploma in bakery and confection. Participants in the programme gain new baking, pastry, and sweet-making abilities.
There are many different job prospects available to study participants. After completing the course, they might start working for famous hotels and restaurants.
Diploma in Bakery skills required
Work with the team
well-organized
Skill in numerics
Know about detailing
Observe well
well-organized
Physically strong
Work with flexibility
Benefits of a diploma in bakery
People who complete the diploma program successfully find a wide range of amazing opportunities to work on both a national and worldwide level as professionals in the baking industry.
Bread baker, assistant baker, artisan baker, head baker, maintenance manager, and bakery specialist are just a few of the jobs available to people with a diploma in baking. A typical annual salary for first-year students is between 100,000 and 600,000 rupees.
The production reaches a sizable audience;
With this training, you can find high-paying employment.
This training can help you gain more skills and experience.
Take advantage of the rising demand by taking unpaid tours.
Scope of the Bakery Diploma
Baking is a skill that is respected both nationally and internationally, as seen by the great demand for delicious bread. When celebrating any occasion, the first sweet food that springs to mind is a cake. Birthdays and anniversaries are not celebrated without cakes and pastries. These items no longer make up a significant portion of our regular diet. Ice cream, pies, pastries, custards, and chocolate have traditionally been loved by young people. Even the oldest kids were unable to resist wanting to own them. Given the ongoing demand for qualified professionals in the bakery industry, a diploma in baking and confectionery is obviously extremely relevant.
Anyone who wants to continue their education has the option of getting a BHM (Bachelor of Hotel Management) or BHMCT degree (Bachelor of Hotel Management and Catering Technology). They could pursue an MHM or MHMCT to forward their study (Master of Hotel Management and Catering Technology).
For those who want to work as lecturers or professors, a Ph.D. in the relevant field is a possibility.
Diploma of Bakery: Top Recruiters
After earning a diploma in pastry and sweets, you can run into the top recruiters here. Some of the top recruiters are listed below:
Hyatt Hotels
Accor Hotels
Hilton Worldwide
Taj Groups
Marriott International, Inc.
Hotels & Resorts
Career Options after Diploma in Bakery
There are multiple job chances for those registered in a hotel management plan in Rajasthan who focus on baking and sweets. Below is a detailed description of the primary job pathways that students enrolled in the diploma for baking and sweets can choose from.
The senior baker is in charge of a junior baker known as a comptroller baker. A comptroller baker is thought of as a trainee. He or she develops functional abilities for a specific bakery station or industrial bakery.
A speciality bakery that focuses on making different types of cakes is known as a cake decorator, sometimes known as a cake designer. He or she makes or decorates cakes for weddings, birthdays, anniversaries, special occasions, and other events. Custom cakes are decorated by a cake decorator in accordance with client specifications.