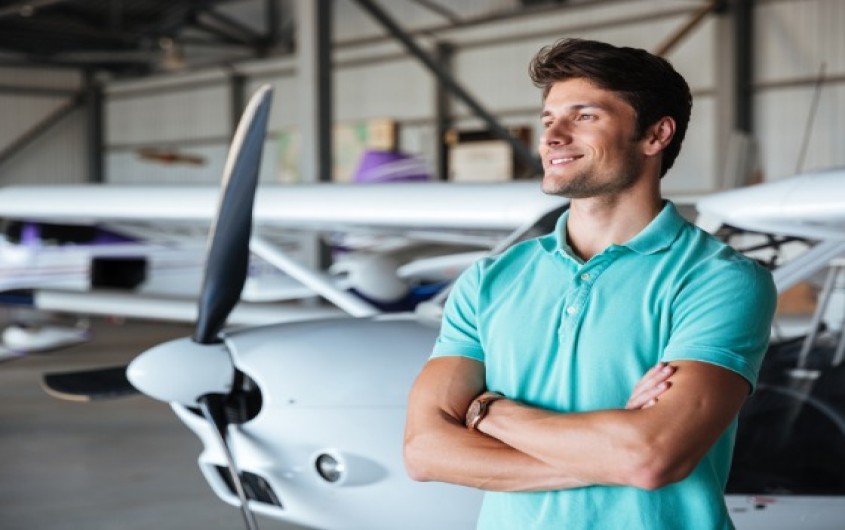 Eagle Aviation Institute-Professional Diploma Course in Aviation:
The Diploma in Aviation is a one-year full-time diploma-level course that focuses on airport and aviation management. This aviation course is designed to provide candidates with the knowledge and professionalism required by the aviation industry today. Candidates' IT, problem-solving, and other skills get better to make them industry-ready. To pursue a course, a minimum of 10+2 or equivalent from a recognized board is required. Admission to the course is based on 10+2 results and a personal interview. Hospitality and aviation are both parts of travel and tourism. Because they are both branches of the same tree, they are linked. Hospitality is required in every department in the aviation industry that interacts with customers. Let's go over the diploma in greater detail.
Fasten your seatbelts as we show you how to get a quick start in the aviation industry. We frequently believe that entering the aviation industry is difficult and time-consuming, whether we are talking about becoming a pilot, air hostess, airplane engineer, air traffic controller, or aircraft dispatcher. Nonetheless, a certificate in aviation debunks this myth. Following your 12th-grade year, you can enroll in a full-time, three-month aviation diploma program. It is designed for students who want to learn about business management and operations.
Admission is being processed for the Diploma in Aviation Course:
A Diploma in Aviation Course (NCT-approved aviation certificate) admissions process in India can be completed online or on college grounds. The secondary and higher test scores are only used in the program's admissions procedure. As a result, candidates must meet the requirements for the Diploma in Aviation to be eligible for the course.
Advantages of an Aviation Diploma:
The aviation and tourism industries will soon reach new heights due to the numerous new job opportunities emerging in the sector. The nation's youth will have many job opportunities as a result of this thriving industry, which is expected to grow even more in the coming years. Are you interested in pursuing a career in aviation? Do you want to learn more about the programs provided by an air hostess training school that will help you get a leg up in the aviation industry? I suppose you're in the right place. Although there are several courses that can help you find work in the diploma in airport management and tourist industries, today we will focus on some of the advantages when you have an Aviation diploma certificate.
1. Job opportunities abroad
You really did hear correctly! If you have a degree in the field, you may even be able to find work abroad! A diploma from a reputable institute is very popular among students because it provides opportunities to work as ground staff or cabin crew with major airlines around the world. Furthermore, all you need is a 12th-grade pass to be eligible!
2. Travel around the world for free
There is nothing better for a travel junkie than this! You have the opportunity to travel the entire world while being compensated for it. The cabin crew may earn between 40,000 and 50,000 dollars per month. Isn't that a good place to start?
3. Travel Discounts
Many airlines offer discounted or even free tickets to their employees. Furthermore, because of your line of work, there are some websites where you can get fantastic discounts!
4. There are numerous opportunities to meet new people and even celebrities onboard!
Who doesn't appreciate that? If you enjoy interacting with people at all times, aviation diploma courses from a reputable institution are unquestionably the best option for you.
Following the successful completion of your course, you may be able to pursue the following job opportunities:
Travel agencies
Tour operators
Hospitality
Ground staff handling
Cruise companies
Customer service
Air hostesses/flight stewards
The International Tourism Organization
A diploma in aviation management has several benefits. The only thing you need to keep in mind is the Institute where you can pursue the same.
Subjects and curriculum for the Diploma in Aviation course:
The Diploma in Aviation course (NCT-approved institute) structure and subjects are structured so that students can better understand the course's various topics. The Diploma in Aviation syllabus in India includes a wide range of applications, programming, assignments, and project submissions. Some of the important topics covered in the Diploma in Aviation course are as follows.
How to Become a Member of an Eagle Aviation Institute NCT-approved aviation institute with a diploma
Students are accepted into Diploma in Aviation programs after passing the class 12th board exams. Because institutes are so important to one's future and profession, it is critical to research potential institutes.
Get the highest possible grade in your Class 10+2 or 12th final exams.
To be accepted into reputable institutes, candidates must perform well in qualifying tests administered by a number of private institutes.Candidates must review the admissions requirements on a regular basis, including the deadlines and documents required.
The students must also be adequately prepared for the personal interview round.
Due to the limited number of seats, candidates must demonstrate proficiency in all rounds to be considered for admission to the diploma in the aviation program.
Why pursue an Aviation diploma?
A diploma in airline and airport management is one of the most sought-after diploma degrees on the workforce market because it prepares students for careers in Aircraft, Airlines, Management, Ground Staff, IT, and other fields. Students who complete the course will be knowledgeable about airport management, security, planning, passenger forecasting, and safety. Furthermore, the course benefits both domestic and international airlines worldwide. Candidates who successfully complete this course can apply for jobs such as air traffic controllers, ground personnel, passenger management staff, ticketing staff, and so on, or they can continue their education.
If candidates want to further their education, they can enroll in higher education programs related to the aviation industry, such as an MBA, a master's degree in aviation safety, a postgraduate allows student, and so on.
Why do we need to choose an aviation diploma?
With an aviation diploma or an NCT-approved aviation certificate, you can be hired as a ground worker or cabin crew by reputable airlines. It may also provide you with the opportunity to work with well-known domestic and international travel and hospitality companies. This course also provides the student with all of the tools and knowledge required for an airport job. Candidates are fully informed about the professionalism expected in the diploma in aviation hospitality and the airport industry. Students gain knowledge of passenger forecasting, safety and security, airport administration, airport planning, and airport security.